Jun 28, 2017 07:11 PM Central
Young Living is all about giving back. It gives back to the communities where the oils are sourced in more ways then just providing jobs. It builds schools, gives scholarships and aids in reconstruction efforts after there has been a devastating climactic or environmental event. On top of that, it gives to us the Young Living distributors on an ongoing, monthly basis. I tell ya, just writing this makes me want to hug Gary and Mary Young for their generosity!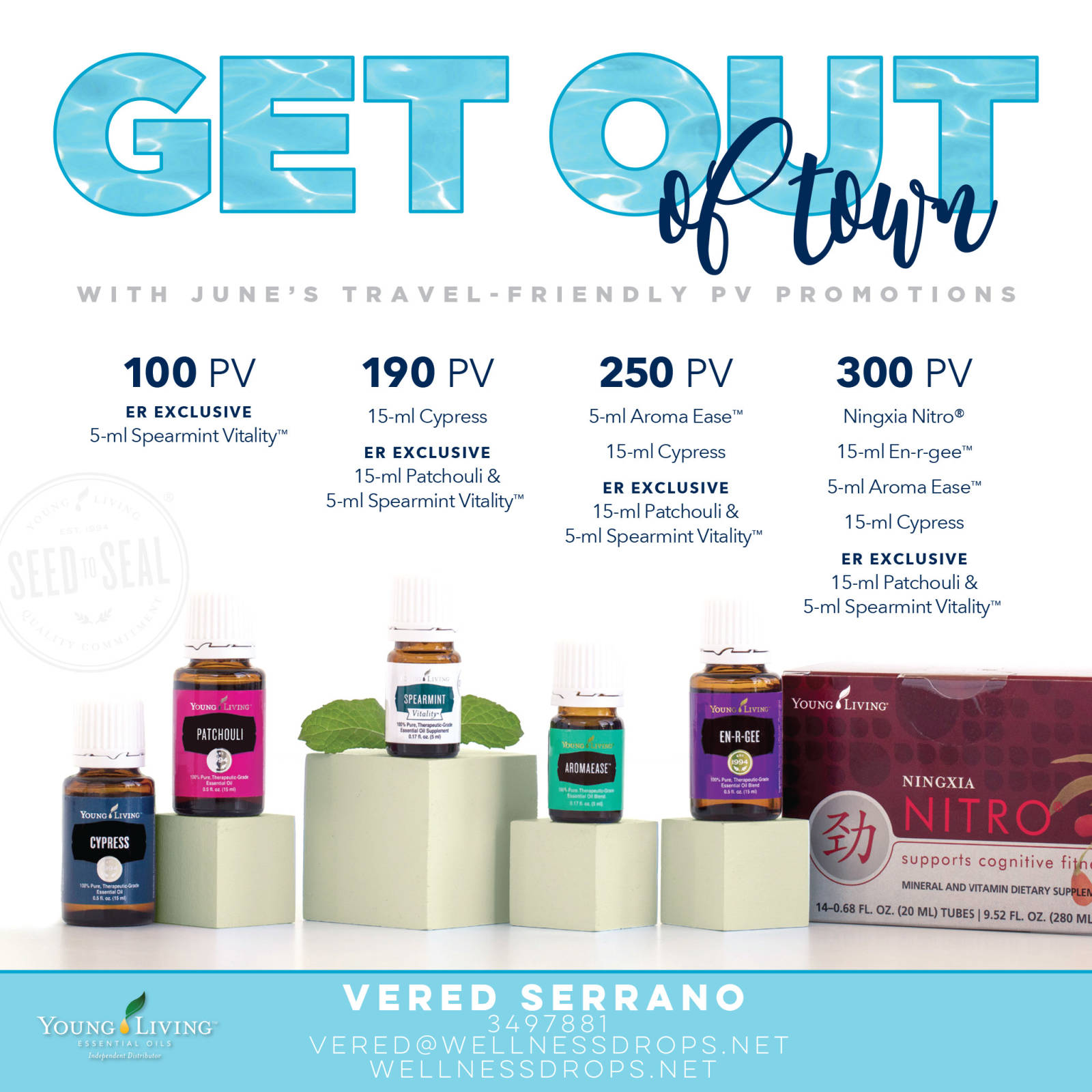 So, here is what Young Living gave us this past month, depending on what PV (point value) your Essential Reward (monthly shipping program) order was for the month of June 2017:
At 100 PV they gave us a Spearmint Vitality oil. Here is what Young Living has to say about Spearmint Vitality:
"Spearmint (Mentha spicata) Vitality™ essential oil is treasured for its unique minty flavor, as well as its ability to help calm tummies* and support normal digestion* as a dietary supplement. With naturally occurring menthol, carvone, and limonene, Spearmint Vitality essential oil can add a cooling effect to foods that is both pleasant and beneficial.
With a distinctly sweeter, softer mint taste than Peppermint Vitality, Spearmint Vitality oil is perfect for infusing beverages to help cool you down. Because of its versatility, Spearmint Vitality is an important ingredient in Citrus Fresh™, EndoFlex™, GLF™, NingXia Nitro®, and Thryomin™. "
Isn't that enough to make you add it to a glass of water or a cup of tea or to one of your recipes?!
At 190 PV they gave us a 15 ml bottle of Cypress essential oil, a 15 ml bottle of Patchouli essential oil and a 5 ml bottle of Spearmint Vitality.
Here is what Young Living has to say about Cypress essential oil:
"Cypress has a fresh, herbaceous aroma that can promote a sense of security and grounding."
Yes, Cypress essential oil supports our emotions!
Here's information on Patchouli essential oil from Young Living:
"Patchouli oil (Pogostemon cablin) is carefully extracted through steam distillation of a low, bushy shrub native to tropical regions in Southeast Asia. Although the plant is part of the mint family, Patchouli essential oil has a powerful, musky scent, and because of its complex aroma, Patchouli oil uses often include perfumes, soaps, incense, and essential oil blends.
With a rich history and unique aromatic profile, Patchouli oil is perfect for the free spirit. Use its calming, relaxing aroma during meditation or yoga practice or apply topically to improve the appearance of skin. You can also find it in Young Living blends such as
Peace & Calming® and Magnify Your Purpose™.
"
Patchouli essential oil supports our emotions, and our skin!
At 250 PV they gave us all the above (Spearmint, Cypress, Patchouli), and also a 5 ml bottle of AromaEase . AromaEase is an exclusive Young Living blend (Peppermint essential oil, Spearmint essential oil, Ginger essential oil, Cardamom essential oil, and Fennel essential oil) that can be used aromatically (inhaled) or topically (on the skin). As per Young Living:
"Aroma Ease™ has a cool, minty aroma and contains powerful essential oil constituents that contribute to a calming aroma.
And now it gets even better!
At 300 PV we received all of the above plus a box of Ningxia NITRO and a 15 ml bottle of En-R-Gee essential oil. First, here's what Young Living says about Ningxia NITRO:
"When you need a midday boost, it's easy to reach for things like soda and energy drinks. Skip the sugary solution and reboot with an option from Young Living. With NingXia Nitro®, you'll get a quick pick-me-up without the sugar or caffeine overload. Infused with essential oils, botanical extracts, D-ribose, Korean ginseng, and green tea extract, NingXia Nitro supports alertness, as well as cognitive and physical fitness."
"A great support for body and mind wellness, use NingXia Nitro for running, weightlifting, or getting through your afternoon slump. The naturally occurring caffeine in Young Living's NingXia Nitro supports normal energy levels and alertness to help you with a busy day or a tough workout.*
Ningxia NITRO is a great alternative to the toxic energy drinks available on the market today!
And then there is EN-R-Gee. Here's information on EN-R-Gee, another exclusive blend from Young Living:
"Fresh and herbaceous, En-R-Gee essential oil blend offers an invigorating aromatic boost when you need it most. Diffuse or apply it topically during your morning routine or before any activity to enjoy the stimulating, spicy-pine fragrance of Rosemary, Juniper, Lemongrass, Nutmeg, Balsam Fir, Clove, and Black Pepper essential oils."
Use it when you need a pick me up or need to focus and concentrate.
These products are worth over $200. Yet, Young Living gives these to us, their distributors, as another way of saying "Thank-You." What other company does that? On Essential Rewards we already receive a 24% discount on what we order. We already receive discounted shipping on those orders. So why do they do it? I believe it's because they care enough about their distributors to offer us the best of what they make--essential oils and products to keep us above the wellness line! And you can't put a price on wellness! Did I tell you? I just love Young Living!